Here are This Week's Upcoming Events!  If you have anything you would like us to promote, please email me at least 1 week in advance at [email protected]!  Events are listed for Chicago, Aurora, Naperville, & Plainfield.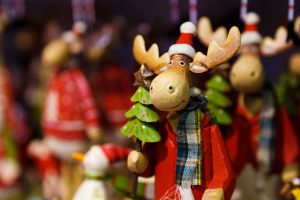 Friday, December 13
Chicago Bulls vs Charlotte Hornets – Tip-Off at 7:00 pm – THEME NIGHT: Star Wars Night | GIVEAWAY: United Airlines Star Wars Socks
FIFTH THIRD BANK WINTER WONDERFEST – Through January 12th – Packed with indoor family fun, Fifth Third Bank Winter WonderFest is a delightful family tradition featuring 170,000 square feet of attractions, including rides, giant slides, indoor ice skating, and holiday decor that is sure to get you into the holiday spirit!
24th Annual Christkindlmarket – From November 15th through December 24th – Inspired by the Christkindlesmarkt in Nuremberg, Germany, which began in 1545, the Christkindlmarket Chicago brings a cherished German and European tradition with international flair and local charm to Chicago. Chicago's largest open-air Christmas festival was first held on Pioneer Court in 1996.
Saturday, December 14
Chicago Bulls vs Los Angeles Clippers – Tip-Off at 7:00 PM – THEME NIGHT: Holiday Game
Christmas Around the World and Holidays of Light – From 9:30 AM – 4:30 PM – This Chicago tradition began in 1942. The museum's 45-foot Grand Tree takes center stage in the Rotunda, surrounded by more than 50 smaller trees decorated by volunteers from Chicago's ethnic communities to represent their various cultures and holiday traditions. Stroll through the trees, enjoy falling "snow" and savor performances on the stage.
Chicago BYOB Party Bus Holiday Lights Tour 'Tis The Season – From 4:30 PM – 9:00 PM – You know you've ALWAYS wanted to do this event! Space is LIMITED as each bus carries no more than 25 people. Tell your friends, sisters, and long lost cousins! Let's drink, eat and be merry this holiday season!
Sunday, December 15
Chicago Blackhawks vs Minnesota Wild – Puck drops at 6:00 PM – 2010 ANNIVERSARY SERIES: DUNCAN KEITH BOBBLEHEAD & Jewish Community Night & Scout Night.
Wilco – Winterlude 2019 – From 7:30 PM – Please click on the link for details.
Lincoln Park ZooLights – From 4:30 PM – 9:00 PM – The most wonderful time of the year deserves the most wonderful event of the year. For that, we invite you to join us in celebrating 25 years of ZooLights at Lincoln Park Zoo. This one-of-a-kind, festive holiday experience offers a free, merry, family-oriented celebration of joy right in the heart of the city.
Monday, December 16
A Christmas Carol – Through December 29th -Goodman Theatre's classic A Christmas Carol is the heartwarming story of Ebenezer Scrooge's discovery of kindness, compassion, and redemption—a must-see Chicago holiday tradition enjoyed by 1.5 million theatergoers for over four decades. "Topnotch performances, spirited song-and-dance numbers" (Newcity), "amazing sets, gorgeous costumes, and eye-popping effects" (Chicago Reader) bring to life "the best Christmas story ever told" (Time Out Chicago).
America's Best Outcast Toy – From 7:30 PM – 9:00 PM – A holiday reality show musical. We all know the story of the outcast toys and how they were rescued from their island by a certain reindeer (may he rest in peace). But what became of the outcast toys when they came back to America? They became huge celebrities, of course! Now, years later, they are re-united to compete in a series of challenges where they must sing, model, design fashion, outwit/outplay/outlast and bake cakes, and of course, dance for their lives, all to prove that they are AMERICA'S BEST or FAVORITE, or LEAST OBJECTIONABLE, or something! And you, the audience, actually determine the results with your vote, meaning every night can be a whole new show!
Tuesday, December 17
Friends Trivia "TOW The Holiday Armadillo" at Goose Island Chicago – From 7:00 PM – 9:00 PM – The entire trivia will consist of holiday-related episodes and happenings across all 10 seasons, with one round dedicated to the episode, "The One with the Holiday Armadillo".
The Polar Express Train Ride – Set to the sounds of the motion picture soundtrack, passengers will relive the magic of the classic story as they are whisked away on THE POLAR EXPRESS™ for a magical one-hour trip to meet Santa. Once onboard, your hosts will work their way through the car and punch your golden ticket before hot chocolate and a delicious cookie are served by dancing chefs. Passengers then read along with the classic children's book, The Polar Express, by Chris Van Allsburg.
Wednesday, December 18
Chicago Blackhawks vs Colorado Avalanche – Puck drops at 7:30.  UNITED CENTER 25TH ANNIVERSARY SNOW GLOBE & Love Your Melon Night.
Illumination: Tree Lights at The Morton Arboretum – From 4:30 PM – 8:30 PM – See trees in a different light at Illumination: Tree Lights at The Morton Arboretum. Be surrounded by color as you walk a one-mile paved path amid interactive lighting effects that highlight the beauty of trees in winter. Enjoy seasonal music, marvel at ever-changing, captivating lighting designs, and warm up by a crackling fire with a cozy drink or roast marshmallows for s'mores. In this unparalleled spectacle of color, light, and sound, you will be awed and delighted to see returning favorites and surprising new sights, including Tree Fascination–a brilliant digital projection of immersive color and pattern on a grove of Eastern white and Scots pine trees. Illumination will highlight the many gifts of trees: natural beauty, increased feelings of peace and calm, homes for wildlife, and the air we breathe. This year's event will debut a new route with a more spacious pathway.
Thursday, December 19
A Pentatonix Christmas – Please click on the link for details.
Friday, December 13
Aurora Festival of Lights – Through December 26th – The merriest and cheeriest of seasons starts with Winter Lights in Aurora! Join the fun as we kick off the holiday season with pop-up holiday shops, Santa & Mrs. Claus, costumed characters, parade, tree-lighting, award presentations, and fireworks. Come make Winter Lights a memory-filled family tradition!
Saturday, December 14
Second City's Holiday Revue: The Good, The Bad & The Ugly – Through December 22nd – It's the most depress… no… sorrow… no… wonderful-ish time of the year! Take a handful of The Second City's best and brightest comedians, roll 'em around in some tinsel and eggnog, throw in your ugliest holiday sweater and before you can say "Aunt Shirley is drunk and trying to put antlers on the dog again," you've got another holiday show ready to roast the chestnuts outta all the things we lovingly loathe about the holiday season.
Sunday, December 15
Parent's Night Out! – From 4:00 PM – 7:00 PM – Please click on the link for details.
Monday, December 16
White Christmas in Aurora – 7:00 PM – Two former soldiers make it as a successful song-and-dance team. When they find their old beloved general is in danger of losing his inn due to the lack of snow and lack of guests, the duo enlists the help of two singing sisters to perform their latest hit show and help save the inn. Starring Bing Crosby, Danny Kaye, and Rosemary Clooney.
Tuesday, December 17
Flipping with Frosty – From 9:30 AM – 12:00 PM – Join us for some frosty fun at our preschool gymnastics holiday celebration. Age-appropriate activities include holiday games, a snowball fight, and a winter wonderland obstacle course. Children must be accompanied by an adult who is able to participate.
Wednesday, December 18
2020 Roadmap to Success: Creating Your Business Blueprint for the New Decade – From 6:00 PM – 9:00 PM – Join us for a focused session of setting the stage for your business and creating a blueprint for success for the next decade. In this evening's presentation, we will evaluate your 2019 results and outcomes. What were your achievements? What were some of your challenges and obstacles? How can you maximize these experiences to make appropriate shifts in your business and be ready for the upcoming year? Whether you are a Start-Up or Established business, don't miss this chance to get a head start on executing your vision for 2020!
Thursday, December 19
Holiday Express at Blackberry Farm in Aurora – From 5:00 PM – 8:00 PM – Bring the family for a magical and memorable experience—just like visiting the North Pole! Blackberry Farm is a winter wonderland amid thousands of twinkling lights, festive holiday decorations, and happy holiday music. Take a ride on the Holiday Express train—a charming tour around scenic Lake Gregory—and enjoy a hay wagon ride, too. Back in the historic pioneer village, you'll enjoy crafts, a reindeer food bar, story readings of holiday classics at the one-room schoolhouse and…a special visit with Santa.
Friday, December 13
'Twas The Night Before Christmas Holiday Exhibit – Through December 22nd – A historic look at a seminal story written in 1823 that continues to endear itself to contemporary audiences. Told through community-provided collections in partnership with the Golden Glow of Christmas Past.
Saturday, December 14
A Christmas Carol the Musical – Two Showings –  3:00 PM & 8:00 PM – A Christmas Carol the Musical is a spectacular adaptation of Charles Dickens' well-known story of Ebenezer Scrooge as a prosperous curmudgeon who believes that personal wealth is far more valuable than the happiness and comfort of others, greeting Christmas cheer with an infuriated "Bah! Humbug!" However, thanks to the guidance of three ghosts, Scrooge recognizes his faults and greets Christmas morning with a cheerful, "Happy Christmas!" A Christmas Carol the Musical is an ideal Guilty Pleasure for your family to create a beautiful holiday experience.
Sunday, December 15
Santa House – Through December 22nd – Take a magical trip to visit Santa on the Naperville Riverwalk at Jackson Avenue and Webster Street. Admission is free. Photos can be purchased for $8 each or two for $15. Don't miss this unique opportunity to visit Santa this year!
Monday, December 16
Winter Wonderland Week – Through December 20th – Monday thru Friday 12/9 to 12/14 Grades 6-12 FREE Join in on a fun week of winter festivities and crafts…There will be a gingerbread house contest, cooking decorations, Candy Kane land and more.
Tuesday, December 17
Naper Lights – From November 26th – December 27.  Naperville Sunrise Rotary, in partnership with the Water Street Downtown Naperville, Marquette, and Ryan Hill Group presents the seventh annual Naper Lights event located along Naperville's Riverwalk. Water Street will be converted into a winter wonderland, with a combination of holiday displays and music.
Wednesday, December 18
Build a Gingerbread House with Us! – Starts at 6:00 PM – Bring your creativity and share some special holiday time with your family while making a Gingerbread House with us on Wednesday, December 18th! Hot chocolate will be served!
Thursday, December 19
Yuletide Festival & Fair – From December 5th – December 22nd – Make your Holiday merry and bright at the new Yuletide Festival and Fair! Experience the joy of the holiday season with live entertainment, art and craft vendors, wintry food and beverages, twinkling lights, and more!
Friday, December 13
Jason Benefield @ Garage Band Brewing – From 7:00 PM – Please click on the link for details.
Saturday, December 14
SantaCon 2019 – From 5:00 PM – Welcome to SantaCon.info where we maintain the most complete list of SantaCon events around the world.  SantaCon.info is the established authority site (since 2008) and is the work of one Santa – Websanta – who takes personal responsibility and pride in doing the best he can to enable you/Santa to find (or create) and enjoy a SantaCon near you.
Sunday, December 15
St. Mary Nativity Christmas Craft & Vendor Show – From 8:00 AM – 1:30 PM – Join us for our Annual Pancake Breakfast with Santa and Craft Fair! Tons of crafters and vendors!
Monday, Dec – ember 16
HAPPY BIRTHDAY JANE AUSTEN – From 11:00 AM – 12:00 PM – Get a glimpse into the personal life of Jane Austen, one of the most beloved novelists of the 19th century. Portrayed by Debra Ann Miller.
Tuesday, December 17
Plainfield Holiday Lights Run – From 6:30 PM – 8:00 PM – Join us as we run through Historic Downtown Plainfield on Tuesday, December 17th @6:30 pm for a Holiday Lights Fun Run & Walk. All ages and ability levels are welcome. Meet at the store!! Wear festive clothing! Stick around afterward to enjoy our Chocolate Bar. That is right, A CHOCOLATE BAR!!! All things chocolate will be served!!! ** Also, please bring a toy (unwrapped) so we can donate to a local shelter! Bring extra joy to kids for the holidays **
Wednesday, December 18
Station One SANTA House! – From 5:00 PM – 7:30 PM – What's better than seeing Santa?? Seeing him at Station One Smokehouse while eating BBQ!!
Thursday, December 19
Wine & Cheese Tasting – From 6:00 PM – 9:00 PM – A fine wine and artisan cheese shop, wine bar and cafe located in historic downtown Plainfield, IL.
This blog is provided by Kurt Clements Aurora Illinois Real Estate Agent, Kurt Clements Chicago Illinois Real Estate Agent, Kurt Clements Naperville Illinois Real Estate Agent, & Kurt Clements Plainfield Illinois Real Estate Agent.